Parent conferences are coming February 28 and March 1!
To give greater flexibility in scheduling parent/teacher conferences, Riley has now made conference schedules available via the internet. Starting January 29, parents will have the opportunity to access their teachers' calendars and schedule a convenient conference time.  If you have not made an appointment by February 26, teachers will pick a time for you and notify you in a take-home note.  
The school welcomes you to come in and use one of our computers if you do not have internet access at home or work.  Alternatively, you may access the internet via the computers at your local library.
The password associated with logging on was sent home to parents January 31.  If you struggle to access the scheduling site, please call the front office at 801-974-8310. 
Please be sure to take advantage of this opportunity to efficiently schedule your appointments.  Remember, the appointments are available on a first-come, first-serve basis.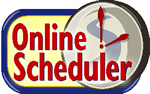 https://www.canyoncreeksoftware.com/scheduler/ut/slc/
Parent conference scheduler--detailed parent instructions